June 9th: drinks
June 11th: fanmeeting + drinks
June 19th: ddeokbokki, fried shrimp and drinks
June 23rd: Churros and spaghetti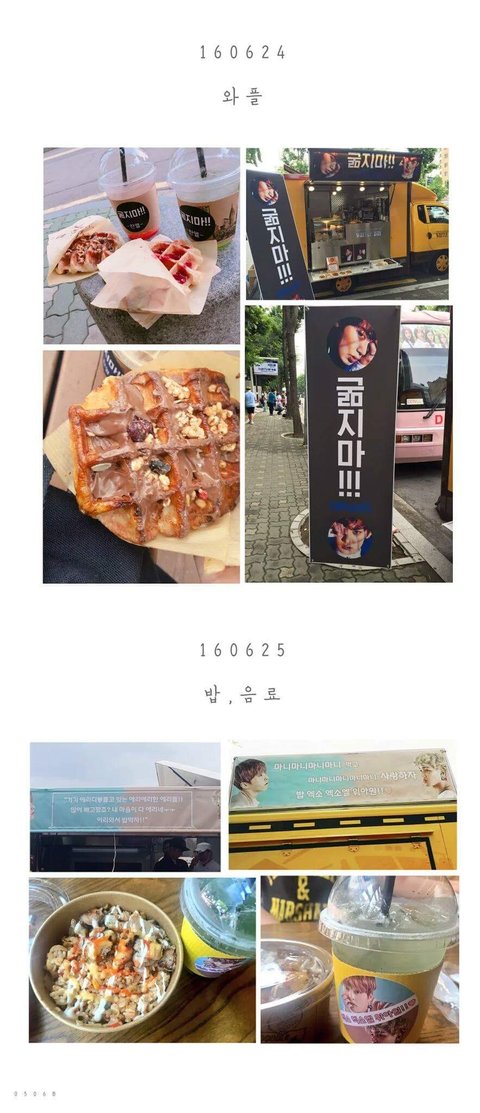 June 24th: Waffle
June 25th: Rice meal and drinks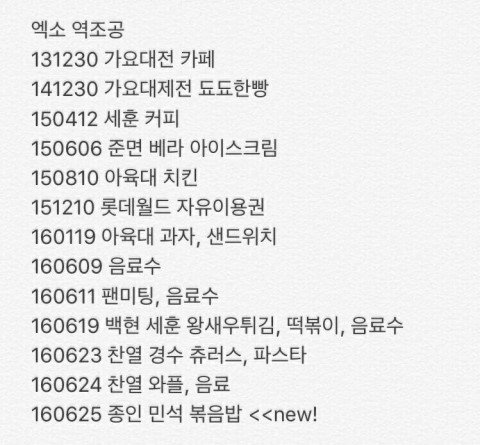 EXO's tribute:
December 30th 2013: Gayo daejun cafe
December 30th 2014: Gayo daejun DyoDyo bread
April 12th 2015: Sehun's cafe
June 16th 2015: Junmyeon Baskin Robins ice cream
August 10th 2015: IAC chicken
December 10th 2015: Lotte World seasonal pass
January 19th 2016: IAC snacks and sandwiches
June 9th 2016: drink
June 11th 2016: fanmeeting, drinks
June 19th 2019: Baekhyun & Sehun's friend shrimp, ddeokbokki and drinks
June 23rd 2016: Chanyeol Kyungsoo Churros and pasta
June 24th 2016: Chanyeol waffle and drinks
June 25th 2016: Jongin Minseok fried rice
The people who are saying that EXO are taking the fans for granted are pathetic god-Xo jjang


They really did a lot of tributes for this promotiong. I'm jealous seeing those fans and their bias taking care of each other..ㅠㅠ Last time they gave out seasonal tickets to an amusement park worth 72M won, they're seriously amazing




When they were pre-recording for their music show, EXO were asking the fans whether they ate and if the fans said no, they would talk to them even more and tell them to eat. There was a member who said that he'll exchange food cars with the fans, they're cuteㅋㅋㅋㅋㅋㅋㅋㅋㅋㅋㅋㅋㅋ


Don't cry yet ㅠ Once they're done with everything and did all the mopping-up let's all cry




(
Credit: pann-choa.blogtspot.com)
TAKE OUT WITH FULL AND PROPER CREDITS. DO NOT HOTLINK!